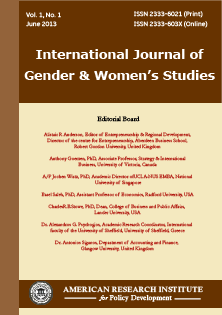 International Journal of Gender & Women's Studies
Editor-in-Chief Dr. Michael O. Akintayo, Metropolitan College of New York, USA.
ISSN: 2333-6021 (Print Version)
ISSN: 2333-603X (Electronic Version)
Frequency: Semi-annually (2 issues per year)
Nature: Print and Online
Submission E-mail: editor@aripd.net
Language of Publication: English
International Journal of Gender and Women's Studies is an interdisciplinary international journal which publishes articles relating to gender and sex from a feminist perspective covering a wide range of subject areas including the social and natural sciences, the arts, the humanities and popular culture. The journal seeks articles from around the world that examine gender and the social construction of relationships among genders. In drafting papers authors should consider the readability of their paper for readers outside of their discipline. Articles appearing in Journal of Gender and Women's Studies analyze gender and gendered processes in interactions, organizations, societies, and global and transnational spaces. The journal primarily publishes empirical articles, which are both theoretically engaged and methodologically rigorous, including qualitative, quantitative, and comparative methodologies. The journal also publishes reviews of books from a diverse array of social science disciplines.
E-Publication FirstTM
E-Publication FirstTM is a feature offered through our journal platform. It allows PDF version of manuscripts that have been peer reviewed and accepted, to be hosted online prior to their inclusion in a final printed journal. Readers can freely access or cite the article. The accepted papers are published online within one week after the completion of all necessary publishing steps.
DOI®number
Each paper published in International Journal of Gender & Women's Studies is assigned a DOI®number, which appears beneath the author's affiliation in the published paper. Click HERE to know what is DOI (Digital Object Identifier)? Click HERE to retrieve Digital Object Identifiers (DOIs) for journal articles, books, and chapters.
Abstracted/Indexed in:
CrossRef, CrossCheck, Cabell's, Ulrich's, Griffith Research Online, Google Scholar, Education.edu, Informatics, Universe Digital Library, Standard Periodical Directory,Gale, Open J-Gate, EBSCO, Journal Seek, DRJI, ProQuest, BASE, InfoBase Index, OCLC, IBSS, Academic Journal Databases, Scientific Index.
Editorial Board
Dr. Michael O. Akintayo, Metropolitan College of New York, USA.
Dr. Vasileios Pappas, Aristotle University of Thessaloniki, Greece.
Dr. Şükran ÖZKAHRAMAN, Suleyman Demirel University Faculty of Health Science, Turkey.
Dr. Eun-Suk SA., Kangnam University, South Korea.
Prof. Khunou Freddie, North West University (Mafikeng Campus), South Africa.
Dr. Suzanne A. Wazzan, Umm Al-Qura University, Makkah, KSA.
Mrs. Shaghayegh Mohammadi, Islamic Azad University Central Tehran Branch, Iran.
Associate Prof. Dr. Türkay Bulut, Haliç University, Turkey.
Dr. Munyae M. Mulinge, United States International University (USIU), Nairobi, Kenya.
Dr. Ayman Alshboul, Yarmouk University, Jordan.

Current Issue
To submit your paper and for any query, please contact the executive editor at
editor@aripd.net
Browse Journals
Journal Policies
Information
Latest Activities
Resources
| | |
| --- | --- |
| Today | 203 |
| Yesterday | 831 |
| This Month | 6820 |
| Last Month | 28487 |
| All Days | 2124063 |
| Online | 6 |